FREE Stuff!
Who doesn't like free stuff? Here at Hero's Hoard and EC3D, we are avid contributors to the tabletop 3D printing and gaming community, and make a huge effort to give back, help new folks get started, and come to love this hobby as much as we do.
To that end, we wanted to catalog some of cool free stuff for you to check out:
STL Files / Models
We (Ryan and Evan) are very active on Thingiverse and have a broad range of free models, including some preview items for things you can buy here on Hero's Hoard, items that were released for free as part of a past Kickstarter, items supported by a Patreon or other initiative, and just a bunch of cool/wacky stuff we wanted to make. Take a look at our respective Thingiverse profiles below to check it all out, and be sure to follow us to see new items as we post them.
Ryan Beasecker (aka "Curufin") on Thingiverse: HERE
Evan Carothers (aka "Ecaroth") on Thingiverse: HERE
Specific Collections of Note:
The Tabletop 3D Printing Guild
Ryan and Evan are both active contributors, and admins for, the quickly-growing community on Facebook known as the "Tabletop 3D Printing Guild", which is the sister group to the hugely popular Tabletop Crafter's Guild.
We do all kinds of fun stuff in there, like free giveaways, previews, answer any and all tech/printing questions, share print/war stories, etc. We highly encourage you to COME JOIN US if you aren't already a guild member!
2D Printable Battle Maps
As part of the Forest of Oakenspire Kickstarter, Evan had a bunch of 2D printable maps made to complement 3D printed scatter. They are free to download and print/use. They include gridded and non-gridded versions, and are designed to print at your home/office/wherever on standard sized paper. Enjoy!
Explore or fight your way through the tops of the Oakenspire trees!
Explore the vast depths of an old-growth forest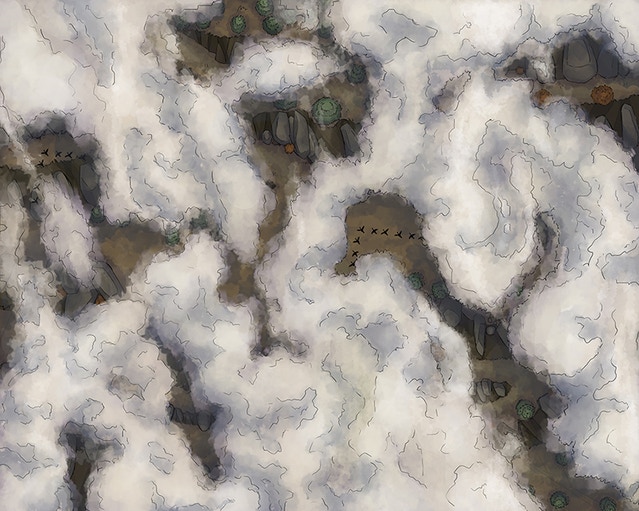 Including regular and stormy version, perfect for airship or other aerial battles.